P.R.I.M.E. Finance Welcomes Twenty-Eight New Members to its Panel of Experts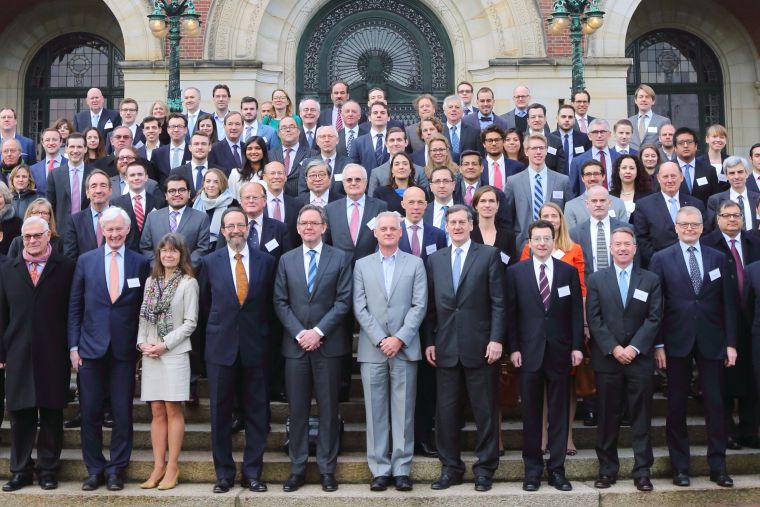 P.R.I.M.E. Finance (the Hague-based Panel of Recognised International Market Experts in Finance) has confirmed twenty-eight new appointments to its List of Experts from thirteen different countries. This round of appointments has seen, for the first time, experts from Austria, Belgium, Poland and the United Arab Emirates join our Panel. Among the newly-appointed experts are renowned academics from both civil and common law jurisdictions, General Counsels of major international banks, and outstanding practitioners from both the financial markets and arbitration worlds. P.R.I.M.E. Finance proudly welcomes these prominent professionals with unique financial and legal expertise to its list of experts.
The Panel is currently composed of more than 150 experts who each averages more than 30 years of relevant market and legal experience.
The twenty-eight new members of the Panel are:
Professor John Armour, Hogan Lovells Professor of Law and Finance at Oxford University; Fellow of the European Corporate Governance Institute.
Professor Douglas W. Arner, Kerry Holdings Professor in Law and Co-founder, Asian Institute of International Financial Law, LLM Corporate and Financial Law and LLM Compliance and Regulation, Faculty of Law, University of Hong Kong.
Bruno Bianchini, international commodity & finance consultant.
Dr. Markus Burianski, Partner at White and Case LLP, Head of the German Arbitration Practice (Frankfurt).
Heikki Cantell,  General Counsel and Head of Legal Department at Nordic Investment Bank (Helsinki); former General Counsel at the Council of Europe Development Bank; former Head of Branch, Heikki Haapaniemi Law Firm (Paris).
Joshua Cohn, Managing Principal, JBHS LLC; former Partner and Co-Head, Global Derivatives Group, Mayer Brown LLP; former Partner, Allen & Overy LLP; former Senior Vice President and General Counsel, DKB Financial Products, Inc (New York).
Gary DeWaal, Special Counsel at Katten Muchin Rosenmann LLP (New York).
Simon Gleeson, Partner at Clifford Chance (London); visiting Professor at Edinburgh University; member of the bank resolution project of the Hoover Institution at Stanford University; Visiting Fellow of All Souls College Oxford.
Jeremy Goldring KC, Barrister, South Square (London).
Professor Dr. Arthur S. Hartkamp, Professor of European Private Law at Radboud University Nijmegen (The Netherlands); former Advocaat-Generaal (Advocate-General) and as Procureur-Generaal at the Supreme Court of The Netherlands.
The Hon. Peter Michael Jacobson KC, Wentworth 7 Selborne Chambers (Sydney); former Judge of the Federal Court of Australia.
Jacek Jonak, Managing partner at Jonak and Partners (Warsaw); former Partner and Head of Warsaw capital markets practice of Allen & Overy.
Ulf Köping-Höggård, Senior Legal Advisor and former General Counsel of Svenska Handelsbanken AB (publ) (Stockholm).
Dr. Michael Kutschera, Partner, Binder Groesswang Attorneys at Law (Vienna); past Chair of the IBA Committee on Banking Law and Bar Issues Commission.
Andrea Menaker, Partner at White & Case LLP (Washington DC); former Chief of the NAFTA Arbitration Division for the US State Department.
Dr. Peter Niculescu, Partner at Capital Market Risk Advisors (New York); former Executive Vice President of Capital Markets at Fannie Mae; former Managing Director and Co-Head of Fixed Income Research at Goldman Sachs.
Laurence Rabinowitz KC, Barrister, One Essex Court (London).
Kenneth Raisler, Partner, Sullivan and Cromwell LLP, Head of the Firm's Commodities, Futures and Derivatives Group (New York); former General Counsel, Commodity Futures Trading Commission; former Assistant United States Attorney for the District of Columbia.
David W. Rivkin, Partner and Co-Chair of the International Dispute Resolution Group at Debevoise & Plimpton (New York); Immediate Past President of the International Bar Association.
Karl Rogers, General Counsel, Africa and Middle East, Standard Chartered Dubai.
Professor Steven L. Schwarcz, Professor of Law and Business at Duke University; Founding Director of Duke's interdisciplinary Global Capital Markets Center.
Nicholas Segal, Partner at Freshfields Bruckhaus Deringer (London); judge in the Grand Court of the Cayman Islands (Financial Services Division).
Professor John Stumbles, Professor of Finance Law, The University of Sydney; Fellow of the Australian Academy of Law.
Professor Ravi Tennekoon, Professor of Law of International Finance at King's College London; former partner at Herbert Smith Freehills (London).
Richard Tredgett, Partner at Allen & Overy (London).
Bay Way Yee, Partner at BWY LLP (Singapore); Independent arbitrator and adjudicator (Kuala Lumpur Regional Centre of Arbitration); consultant at CME Group (Singapore); former policy director of the International Swaps and Derivatives Association (ISDA).
John Williams, Partner at Milbank, Tweed, Hadley & McCloy (New York).
Professor Eddy Wymeersch, Chairman of the Public Interest Oversight Board; Independent Director at the Association for Financial Markets Europe, and of Euroclear SA; Emeritus Professor of Commercial Law, University of Ghent, Belgium.
According to Professor Jeffrey Golden, Chairman of the P.R.I.M.E. Finance Foundation:
The collective experience of these Experts adds another dimension to the P.R.I.M.E. Finance offering. The financial marketplace is now truly a global affair. P.R.I.M.E. Finance aims to ensure that its Experts can draw on sufficiently diverse and broad-based backgrounds to deal with the variety and complexity of the cases now arising in an authoritative and cost-effective way.
About P.R.I.M.E. Finance
P.R.I.M.E. Finance is based in The Hague and was established to help resolve disputes concerning complex financial transactions. The organization has the support of key international regulatory bodies and is complementary to the on-going financial market regulatory reform process. The PCA is the world's oldest arbitral institution, with over a century of experience in administering complex international proceedings. P.R.I.M.E. Finance joined forces with the PCA in 2015, combining the subject matter expertise of its Panel of Experts with the PCA's administrative efficiency. While the filing address for notices of arbitration is with the PCA at its Peace Palace headquarters in The Hague, arbitrations may take place anywhere in the world, and may be facilitated by the PCA's host country agreements with a number of its Contracting Parties. As a result, parties to complex financial transactions have improved access to arbitration and mediation to resolve their disputes. For more information, please contact primeregistry@pca-cpa.org.
The press release can be found as a PDF here.